Kay Snyder (left) displays her new quilt with her sister, Mary McLear, both of Staunton. Snyder is the co-owner of the Staunton Braves, and won the raffled quilt from Staunton Senior Center July 12. The quilt was created by the Quilters Group at SSC.
Augusta Health physical therapists supplied their expertise to the Staunton Senior Center by providing fall risk assessments to new members.
Ashley Kane and Joyce Rathfon saw eight new members, identifying fall risk factors and making recommendations for fall prevention. They utilize the Tinetti Gait and Balance Tests and to determine if individuals have a high, moderate, or low risk of falling.
Findings can be useful as seniors work with their physicians on health care plans. Two SSC members were advised that physical therapy would be helpful for them. Ashley provides copies of the records to the Center for member use or so that staff may aid with follow up if necessary. Many thanks to Augusta Healthcare for providing this valuable service as well as other services such as the bone density scanner which will be available at the Center on the morning of July 24.
Shoppers trickled in steadily throughout the day July 12 to buy everything from a bicycle to a rocking chair to new zippers at Staunton Senior Center's summer 'Country Store.'
Center members were given a sneak peak on Friday to purchase from the hundreds of items donated by the community. Between the two days and funds raised for the bi-annual quilt raffle, the Center raised just over $600, which will go toward day trips and lunches out. A special thanks to Lori Pullin, Lala Putnam, Mary McLear, Mamie Faulkner, David Taylor and Jan Dore-Dennis for their help throughout the two days.
The winner of the quilt was Kay Snyder, co-owner of the Staunton Braves.
Staunton Senior Center Local Council members gathered to develop a balanced budget at a special meeting.
After weeks of meetings between the council's ad hoc budget committee, WSC's budget committee, and regional director Janice Gentry, a quorum met July 10 at the Center to determine final cuts and fundraising opportunities for fiscal year 2014-2015. Local Council chair Michael Thompson will present the budget at the upcoming VPAS advisory committee meeting later this month.
Twenty-six members, staff, volunteers, and visitors from the community took advantage of the Dermascan equipment that was available at Staunton Senior Center on June 24.
Especially now that summer is here and people are spending more time outdoors, it is critical to think about covering the skin using sunscreen, hats, and proper clothing. George Savage, Clinic Assistant, ran the scan, talking with participants about results and their skin care needs. He had plenty of educational materials available for members and important facts concerning skin cancer as well. Next month he will be at the Center performing bone density tests on those interested in their bone health.
After lunch on June 24, fifteen Nat King Cole fans settled in for a history of this famous singer and a chance to listen to some of his most popular songs. As time went on, more people came to listen, and soon the front room was filled with people taking trips down memory lane! Al Leichter, local authority on rhythm and blues, was showcasing Nat in a most enjoyable program in observance of Black Music Month.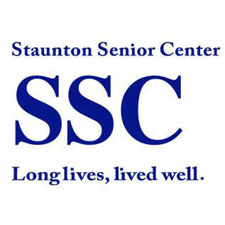 The reclusive Will Carson will close the Staunton UNPLUGGED spring concert series with an acoustic concert at 7 p.m. on Friday, July 4, at 300 Churchville Avenue in the Staunton Senior Center.  City fireworks will follow next door at Gypsy Hill Park after the concert.
Carson is a prolific songwriter who rarely performs publicly.  His last public concert was held in 2009.  He has a small, dedicated following who appreciate his multi-themed, multi-layered song lyrics and unique, worn voice.  These rare concerts are an experience not to be missed.
The Staunton UNPLUGGED series features artists performing in a living room setting without amplification.  Admission is $5 and refreshments will be served.